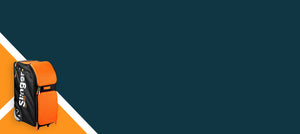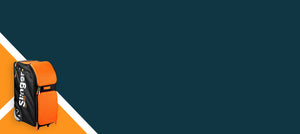 Be the first to get the most portable, versatile, affordable and easy-to-use ball launcher in Pickleball!
THE PERFECT PLAYING PARTNER. READY WHENEVER YOU ARE.
PORTABLE
Lightweight and durable. Effortlessly transport it like a roller duffle by extending the handle and rolling it to the court.
Just 42lbs / 19kg.
AFFORDABLE
Own your Slinger Bag Pickleball launcher for significantly less than traditional Pickleball machines.
VERSATILE
Store all your pickleball gear - paddles, footwear, clothing and accessories. Holds up to 120 balls for launching. Even includes an USB charging station!
EASE-OF-USE
Set up in minutes. Adjustable ball speed, frequency, height and spin. Smart charger protects from overcharging. Removable Li-ion battery for easy charging.
Get the Scoop on Slinger for Pickleball key specs
ADJUST YOUR SPIN
Variable pickleball spin function ranging from underspin, to flat to topspin settings.
CHOOSE LAUNCHING ANGLE
Adjust the elevation control knob to your desired launching angle - between 10° and 40°.
SELECT YOUR FEED RATE
Variable ball feed rate between 2 and 7 seconds.
BUILT TO LAST
Up to 3 hours of battery life at average speed and feed settings.
Master Your skills: 7 Key Slinger Pickleball Drills
What some of our beta testers are saying
KALINDI D.
UNITED STATES
I love Slinger's new pickleball launcher and highly recommend it for pickleball players, coaches and facilities. I've used the tennis launcher from Slinger before, and its great features have been carried over into this new product with some great tweaks and additions suited for pickleball. I think pickleball players of all abilities would get something out of this as a training and playing partner. It was really easy to use and works really well for the sport and court dimensions.
JOSH W.
UNITED STATES
I've used many ball machines for different racket and paddle sports. Slinger's pickleball launcher is one of the best ball machines I've tested considering the price point for its high-quality build with excellent capabilities and features. I tested different brand indoor and outdoor pickleballs at different speeds, spins, and heights and the performance was consistent, allowing for very helpful practice situations for personal practice or group drills. I think it would be difficult to find a better product, especially at this price point.
RAUDEL B.
UNITED STATES
Slinger Bag for Pickleball Ball is a top-quality launcher with strong zippers, pockets and handles. The charger is easy to use and the battery life is great. The remote is flawless and the fast setup to play is what makes this product stand out the most. The elevation handle works well and ball feeding is consistently smooth. The spin features are seamless and the ball tube collection is a standout feature. The mobile phone camera holder and phone charging capabilities are key added bonuses. I highly recommended Slinger Bag!